Finally, a ready-to-go subdivision with already developed lots just waiting on a new home for you. This subdivision is located on the south side of the lake and is just next door to the Granbury ISD STEAM Academy. Many families will be drawn to this neighborhood due to the popularity of the Academy.
Granbury has experienced a surge in newcomers but has faced a shortage of homes in general. This already existing sub-division boasts 140 development-ready lots. A beautiful and quiet subdivision that you will find the perfect location to call home.
The new homes are slated to begin construction in late March 2022. Three cottage-style homes will be unveiled ranging in square footage from 1,500 – 2000 square feet. Prices are being determined as supply chains allow. The goal is to keep this product in the low 300s to the mid-400s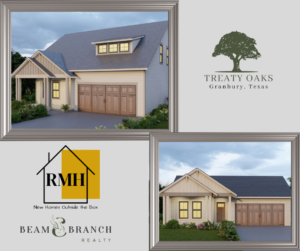 .
The builder/developers hail from the Houston area and are long-time, established professionals. Their experience and knowledge have them in high regard with their peers in the industry. We know that you will be impressed.
Treaty Oaks home pre-home sales are happening right now! Call us today at Beam & Branch Realty and speak with one of our trained agents. We are on-call right now to assist you. 817-579-0015.