My husband Mark and I purchased a 12.9-acre tract of land just three blocks north of our historic town square here in Granbury, Texas almost 4 years ago. When we spotted this tract of land, we knew it was something special. Being walking distance to the Square, we saw the potential for this little tract.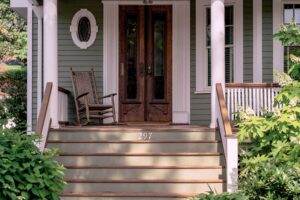 Yesterday, we successfully closed the tract after working with a developer out of the Metroplex for over a year. We are busting at the seams about this new housing development. It will feature 69front porch series homes in a gated neighborhood. The price point will be in the high 200's to the mid-400's.
The street scenes will be pre-determined in order to maintain the visual integrity of the neighborhood. The neighborhood may be a 55+ development but this has yet to be determined. We will know soon who the builder will be as well.
Beam & Branch Realty will be marketing the neighborhood and we are excited to get this project going. Timing of course depends on the city approval process but thus far, things are moving at a nice pace.
We are over the moon at being able to bring this much-needed development to Granbury. We know the housing deficit in the area so these homes will fill a much-needed housing shortage.  If you would like to know more, call Paula McDonald at 936-203-0279 today!